Outstanding Recognition Awards
The Texas Jewish Historical Society gives Outstanding Recognition Awards in two areas: (1) Significant Historic Site Preservation and (2) Extraordinary Historic Project.  One award per year may be given in each category; however, an award is not necessarily given each year.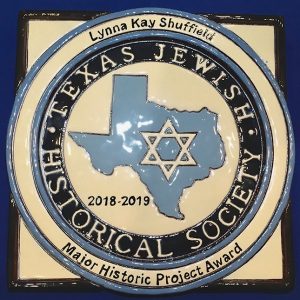 TJHS welcomes nominations that identify those individuals who have made a significant and lasting impact on the preservation of Texas Jewish history. The submission deadline is July 15 of each calendar year. 
For questions or further information, contact Cynthia Wolf at awardchair@txjhs.org
Click the button below to access, print, and complete the Outstanding Recognition Award nomination form.  Send to TJHS as directed.
Significant Historic Site Preservation
Leon and Mimi Toubin for the restoration of the Orthodox Synagogue orgininally in Brenham and moved to Austin in order to continue as a sacred place for Jewish worship services.  Presented in October 2014.
Babette Samuels for her work in preserving Temple Beth-El in Corsicana. Presented in April 2019.
Extraordinary Historic Project
Rabbi Jimmy Kessler for the 1980 founding of the Texas Jewish Historical Society, which continues to educate, preserve, and archive Texas Jewish history.  Presented in April 2016.
Lynna Kay Shuffield for her work in documenting and preserving Jewish cemeteries in Texas. Presented in April 2019.