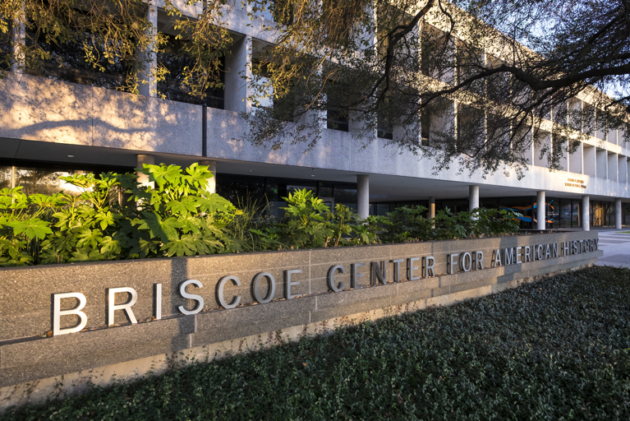 Research Texas Jewish History at the TJHS Collection. The TJHS Collection has been established at the Briscoe Center for American History, University of Texas at Austin. The Collection contains the official records of the Texas Jewish Historical Society, as well source materials; documents; and family, community, and organization histories, dating from 1824 to the present. The Collection is organized by the Briscoe Center into nine series: Administration of TJHS, Communities, Family Histories, Rabbis and Cantors, Texas Jewish Organizations, Published Materials, Photographs, Audio, and Video and Film.
PRESERVE YOUR FAMILY HISTORY
AT THE TJHS COLLECTION
CONTACT THE BRISCOE CENTER
Donate your family records to the TJHS Collection at the Briscoe Center for American History, University of Texas at Austin.  Acceptable items are listed below:
Artistic Materials: Posters; drawings; photographs.  All photographs must have accompanying names and locations of persons shown in the photographs.
Business Papers: No active records that are needed for operation. Includes correspondence; ledgers or record books; classified files, financial records such as receipts, invoices, and inventories; legal record such as contracts, deeds, and court records; flyers; calendars; schedules; posters; memos; business cards; photographs; and albums with identified photos.
Literary Productions/Writings: Essays, poetry, works of fiction, and speeches.
Organizational Records: Charters, membership lists, minutes, yearbooks, programs, press releases, correspondence, newsletters, newspapers, and brochures.
Personal Papers: Family trees; histories; letters; diaries; journals; passports; naturalization papers; birth certificates; death certificates; records and certificates of marriage, circumcision, consecration, bar/bat mitzvah, or confirmation; war records; recorded or written oral history, interviews, or memoirs; legal records such as wills, estate materials, deeds, court records, and contracts; identified photographs and albums with identified photos.
Scrapbook Materials: Report cards, graduation certificates, invitations, programs.
Printed Materials: Newspapers, books, pamphlets, posters, and maps.
Religious Materials: Synagogue records such as minutes, programs, bulletins, records, and membership lists; prayer books; hymnals; identified photographs or albums with identified photos; and cemetery records.
Sound Materials: Music on disc or cassette tape and sheet music.

Please contact the Briscoe Center before you take any items and be sure to indicate that you want it included in the Texas Jewish Historical Society Collection.  For further information or questions about the TJHS Collection, you can contact archivist@txjhs.org.
TJHS Collection Location:
Briscoe Center for American History
The University of Texas at Austin
2300 Red River St.
Sid Richardson Hall, Unit 2
Austin, Texas 78712-1426
General Website:   www.cah.utexas.edu