Message from the TJHS President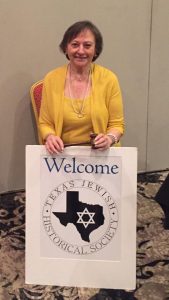 As a person from a small town in West Texas, without a formal Jewish education, I am honored to lead such a distinguished group as the Texas Jewish Historical Society. My husband Bob and I were originally attracted to TJHS as a means to connect with other Jewish people living in Texas. While we hold a membership at Beth-El Congregation in Fort Worth and have done so for more than 40 years, we were not able to be actively involved because our home in Big Spring is 240 miles away!
We went to our first TJHS meeting in Odessa when the 2007 book Lone Stars of David was presented to the membership. Hollace Weiner, one of the book's authors, gave a dynamic presentation, and those cowboy boots made quite an impression! Continuing to attend TJHS meetings throughout the state, we met welcoming people who are actively promoting and sharing the rich history of Jews in Texas. Bob and I began to make sure that future TJHS meetings were inked onto our calendars. The friendships that we've made over the years are precious life treasures.
I invite you to join us as a new TJHS Member. For current members, I look forward to your continued contributions to the success of TJHS.  Please explore this website to learn more about TJHS projects and resources for preserving the legacy of Texas Jews for future generations. 
Susan Zack Lewis
You are invited to become a Member of the Texas Jewish Historical Society.
Membership includes a subscription to the quarterly TJHS News Magazine, containing updates on current TJHS activities as well as historical articles on Jewish Texas lives and events. Members also receive a Membership Directory with names of all TJHS members, plus the TJHS By-Laws and other information. 
Members are welcome to attend all TJHS meetings.  The TJHS Officers and Board of Trustees meet quarterly in cities across the state to study the Jewish history of that area and conduct its business meetings.  The TJHS Annual Gathering in different cities provides an opportunity to hear scholarly presentations, learn research skills, and hear stories about growing up Jewish in Texas.  Information on upcoming meetings is sent to all members.  
Membership dues are to be renewed annually at a financial category of your choice.
Please print out the Membership Form by clicking the button below.  Fill in the requested information, and send along with a check to the indicated postal address.